Dear Friends of Your HomeTown Chagrin Falls,
Once again the Holiday Season is upon us and there is no greater place to visit during the holidays then the charming Village of Chagrin Falls.   Our beautifully decorated town brings joy and excitement to visitors and residents who take part in the many Holiday Traditions during the  festive season.  One tradition you won't want to miss is a visit to Township Hall, known as Holly Hall, beginning Friday, November 29th running through December 23rd.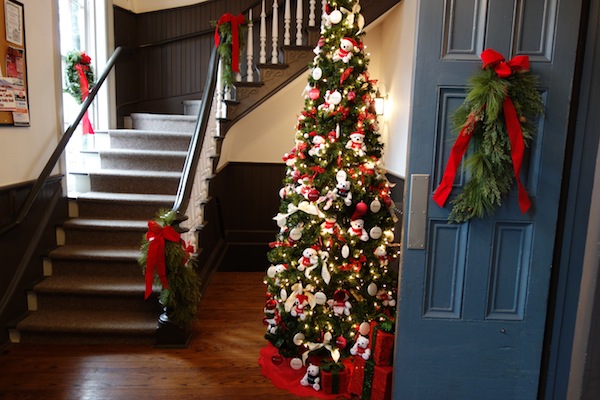 As you enter the historic Township Hall you are warmly embraced by the transformation into Holly Hall.  As you pass through the large decorated doors  you'll be greeted by our friendly hospitality staff ready to serve you hot cocoa and cookies provided by Giant Eagle of Chagrin Falls, Hamlet Retirement Village, Heinen's and resident bakers.  Take a stroll around the mini tree festival of lights that are on display as a silent auction and be sure to stock up on special gifts in our Santa's Gift Shop priced at $6 and under.  Back by popular demand is Mark Brown's themed train display that is always the highlight of Holly Hall!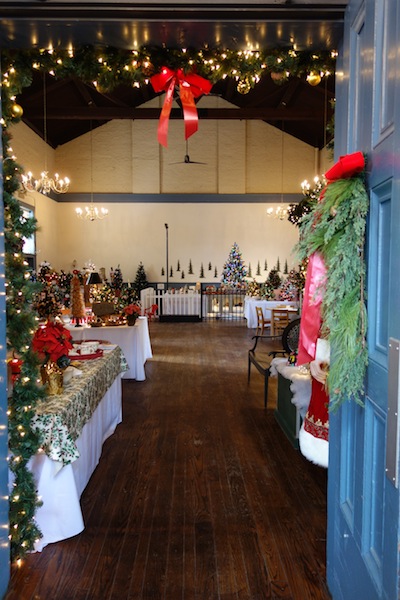 You won't want to miss the weekend choir concerts by Bethlehem Christian Academy, St. Joan of Arc Children's Choir, Chagrin Falls Intermediate Select Choir and Chagrin Falls High School Choir.  New this year is a Tap dance performance by the Cleveland City Rhythm Group.  Visitors of all ages take delight in the weekend Santa visits, provided by Hamlet Retirement Community, along with the Sunday Horse & Carriage rides sponsored by Chagrin Falls Shopping Plaza.  We will be selling tickets for our "Holiday Dream Raffle" a girl's Cannondale 20 inch, 6 Speed Trail Bike with Giro Bike Helmet donated by Geiger's Ski & Sport Haus.  Tickets are $5 a piece or three for $10.
University Hospitals-Geauga Medical Center will be offering a nutrition and hand washing program to area pre-schools throughout the weeks ahead at Holly Hall.  We will be selling our traditional Chagrin Falls Christmas ornament at $20, Chagrin Falls seasonal note cards for $10 and Holiday cards by the CF Historical Society for $15, and a newly released children's book called "The Bullies of Whitesburg Pond" by local author Joanne Fenton Humphrey and illustrations by Joyce Teeft that sells for $12.95.
 Let's make it a Holiday Tradition to SHOP LOCAL this holiday season and support our merchants.  The Village offers some of the best restaurants and shopping in north east Ohio.  Please shop and dine locally this year for the holidays and help our village businesses prosper. Don't forget to download our Save Local Now phone app to check out our merchant's holiday deals, special savings and holiday events.
We could not continue our Holiday Traditions program without the support of our generous sponsors, resident donors and hundreds of volunteers that make it all happen each and every year.  A big thank you to all of our volunteers; Mark Brown, Chagrin Falls residents, Hamlet Village residents,  Chagrin Valley Women's League,  Ingrid Fowble's proof reading team,  Federated Church Camp Workers, Chagrin Valley Women's Club and the Your HomeTown-CF staff and board members. 
 A special thank you to our Holiday Tradition's sponsors; Burntwood Tavern, The Village of Chagrin Falls, The Fraternal Order of Eagle #2436, University Hospitals- Geauga Medical Center, Brunswick Auto Mart, Hamlet Retirement Community, and Chagrin Falls Shopping Plaza. 
On behalf of Your HomeTown-ChagrinFalls, we would like to wish you and your loved ones a very Happy and Healthy Holiday Season and all the best in the coming year!
Joyfully yours,

Patrice Ambrose

Patrice Ambrose, Director
Produced by

with the generous support of