Dear Friends of Your HomeTown Chagrin Falls,
We are proud to present the Chagrin Falls Historic Home and Garden Walking Tour this year on Friday, May 31 from 10:00 a.m. to 4:00 p.m. and on Saturday, June 1 from 10:00 a.m. to 2:00 p.m.  Spend the day and experience the architectural heritage and ambiance of the Village of Chagrin Falls. Featured are six historic homes, buildings and gardens including: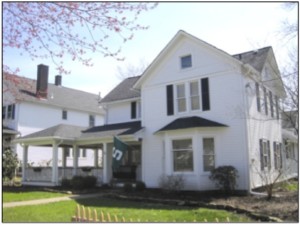 William J. Scott – George Hurlburt House, 1873, 1901
William J. and Antoinette Scott built the earliest part of this home in 1873 on a 1.42 acre lot fronting Maple Street between Walnut and South Franklin Streets.  The Scotts purchased the land for their new home in 1870, the same year that Mr. Scott sold his one-half interest in the Blacksmith Shop he owned with folk artist and local resident Henry Church Jr.  In 1895, the home was purchased by George and Nellie Hurlburt who did extensive work on the property transforming the earlier house into a wood frame Gabled Ell type house that can be seen today.  The Hurlburts owned this home for 30 years. The current owners recently completed a renovation of the home where they removed a rear 1963 addition and added a wrap-around porch to the east side of the home.
Golden Gate Masonic Temple, 1923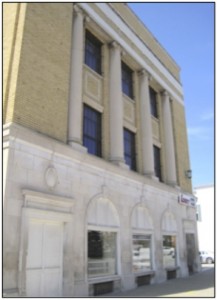 The Golden Gate Masonic Lodge No. 245 held its first meeting in Chagrin Falls on January 4, 1854.  Among the 40 members of the Lodge in 1855 were Adamson Bentley, pioneer clergyman of the Disciple Church, family friend to President James A. Garfield, and founder of Bentleyville, Ohio.  On June 4, 1924 with about 500 Masons in attendance, this new Neoclassical Revival style temple building was dedicated as "the pride of Masonic fraternity in Chagrin Falls… [as] three and one-half stories of constructive beauty."  The second floor contains club rooms and a ball room where many students took their first dance lessons, and on the third floor, a Lodge room of 46 x 74 ft., all of which remain largely intact today.  Golden Gate Lodge and Eastern Star meetings are still regularly held on the third floor.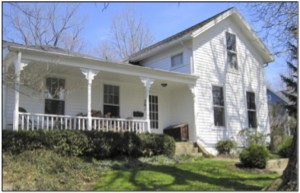 James Hicks House, ca. 1857
This wood frame Upright and Wing type home located on Bell Street is classic Western Reserve, characterized by two units including a taller gabled one and one-half story Upright front gable unit to the east and a shorter one and one-half story Wing unit which is attached perpendicularly to the west.  James Hicks was part of the English migration to the region and purchased a two acre lot in 1855 which included this property.  Fellow Englishman Charles Hern bought the property in 1860 and by 1880 worked at the Adams Bag Company on Cleveland Street in Chagrin Falls. Chagrin Falls included a strong English population many of whom lived on Bell Street.
Cyrus Ely – James Clark House, 1872
In September 1871, Cyrus Ely purchased 50 acres of land on the north side of Bell Street to the east of Cleveland Street. In November 1872, he sold 20 acres to James Clark with this house on the property.  James Clark was born in England in 1825, married to Ireland native Jane Clark and working as a farmer on this property.  James and Jane Clark owned this farm house and property until selling it in 1889 "including the wheat now growing thereon and the manure thereon."  The earliest two and one-half story brick front gabled portion of this house with a one story wing to the east were likely constructed by brick mason and Englishman William "Boss" Hutchings who was an enterprising and philanthropic leader of the community living around the corner at 170 Cleveland Street.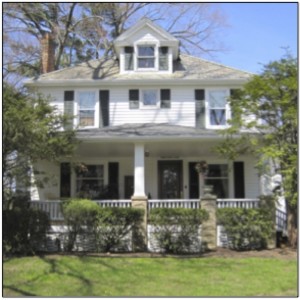 Mary Braund House, 1911
This wood frame American Foursquare architectural type house located on Bell Street was a popular choice at the turn of the 20th century.  The house is characterized by its "simplicity, comfort, and honest functional craftsmanship" as a reaction to the elaborate ornamentation of the earlier Victorian era.  Defining features include the front roof dormer and full length front porch.   This house also includes an interesting two and one-half story bay window on the west side. Mary Braund was the wife of William Braund who operated the W.A. Braund Carriage and Wagon Factory on Front Street (Bell Street) in Chagrin Falls.  They were also part of the English migration to the Village.  William died in 1911 and on land acquired from her father Charles Hern, Mary built this home the same year.  The house remained in the Braund family for 60 years until the death of Veda Floris Braund in 1971.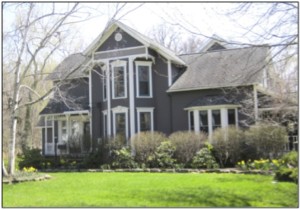 Alice B. Robens House, ca. 1891
This Queen Anne style home was originally constructed in circa. 1891 on a 25 acre site along East Washington Street in Chagrin Falls where St. Joan of Arc Church is now located.   Hervey Bassett purchased the East Washington Street property in 1861 as part of a larger 63 acre parcel.  Daughter Alice Bassett Robens acquired the property in 1890 and constructed a home in the latest Queen Anne style, with Hervey retaining a life estate until his death in 1896. Alice Robens sold to Albert H. VanValkenberg in 1918, and the property is still often referred to as the VanValkenberg homestead.  In 1947, VanValkenberg then sold for the purpose of converting the house for church use.  This original plan was later abandoned instead for plans for a new church building.  To accommodate construction of the new St. Joan of Arc church in 1949, the home was moved to its present location at the southeast corner of  Ridgewood and Bell Streets.
Pre-sale tickets for the Historic Home and Garden Tour may be purchased for $20 until Thursday May 31 at the Visitors Center in Township Hall at 83 N. Main Street daily from 11 a.m. to 3 p.m. and at the following locations until Thursday, May 31 at 5:00 p.m.: Breezewood Gardens, Chagrin Cards & Gifts, Chagrin Pet & Garden, Fireside Book Shop, Heinen's-Bainbridge, Imagery Fine Arts, Lowes Greenhouse, Petitti Garden Center, Timan Custom Window Treatment, Township Hall, Village Herb Shop.
Tickets are also available by calling 440-247-1895 or on-line at this site. Tour Days Tickets are $25 and will be available at the Visitors Center in Township Hall.
We would like to thank our 2013 Historic Home and Garden sponsors: Alexandra Fine Homes, California Closets, Snow Bros. Appliance, The Thomas Brick Company, and Timan CustomWindow Treatments Inc.  
The money raised will directly benefit the Heritage Home Loan program in Chagrin Falls providing low interest rate loans to historic home owners, and also the programs of Your HomeTown Chagrin Falls including the Visitors Center, Merchant Marketing Forums, Economic Development, Design-Beautification-Preservation, Holiday Traditions, Yoga by the Falls and the Farmers Market.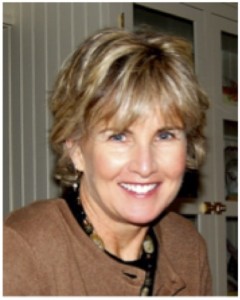 Hope to see you at the Tour!
Wendy Hoge Naylor
Board of Trustees, Member