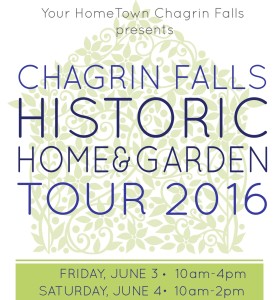 Your HomeTown Chagrin Falls is proud to present the 2016 Chagrin Falls Historic Home and Garden Tour. The walking tour will take place on Friday, June 3 from 10:00 a.m. to 4:00 p.m. and on Saturday, June 4 from 10:00 a.m. to 2:00 p.m.
See histories and details of featured properties
Featured are six select historic homes and gardens all located on the west side of the village and within walking distance of downtown Chagrin Falls. There are two tour homes on Church Street, three others on Maple, Water, and Center Streets, and a lovely historic home garden on Walnut Street. The houses are predominantly examples of twentieth century architectural styles and types with one earlier Italianate style home; all representing the historic architecture and lifestyle of the Village of Chagrin Falls.
Practicality and utility were of foremost importance at the turn of the twentieth century demonstrated by the Bungalow and Homestead architecture of the homes on tour. Two homes on the tour demonstrate the style of local house carpenters of the village during the era. A 1910 Church Street home built by village house carpenter Leon H. Hill, has been adopted to suit the style of the owners. The 1917 Dormer Front Bungalow home of Andrew Phillips is also on Church Street and built by village house carpenter William C. Taylor. On Walnut Street is the 1918 Bungalow home of local Chagrin Falls grocery owner Vene Merriman. Two more twentieth century homes are represented on the tour including a 1920's Colonial Revival home on Center Street and a ca.1900 Homestead type house built by Ed Van Valkenburg on Maple Street. Representing the more elaborate Italianate architecture of the nineteenth century is the Z. K. Eggleston House built in 1875 on Water Street by village master carpenter Joseph O'Malley, who owned the home next door.  Full house histories and photos
Spend the day and experience the ambiance and style of these homes which are part of the important architectural heritage of the Village. There will be van transportation provided in the Village by The Cleveland Clinic, Hamlet Retirement Community and South Franklin Circle for those who need assistance.
The Women's Committee of the Chagrin Valley Little Theatre is serving its Famous Salad Luncheon Buffet on Friday, June 3 at Chagrin Valley Little Theatre, 40 River Street between 11:30 a.m. and 2 p.m. Enjoy salads, desserts and beverages, all for $15. Luncheon tickets are available by calling CVLT at 440-247-8955, www.cvlt.org or at the door the day of the event. Luncheon attendees will be entered into a prize drawing for complimentary tickets to "Calendar Girls" playing at CVLT June 3 – June 25.
Pre-sale tickets will available in April for the Historic Home and Garden Tour and may be purchased for $20 by cash or check at the following locations until Thursday, June 2 at 5:00 p.m.: Chagrin Card and Gifts; Chagrin Pet, Garden and Power Equipment; Fireside Book Shop; Timan Custom Window Treatments; Village Herb Shop; Heinen's in Bainbridge; Lowe's Greenhouse, Breezewood Gardens and Petitti Garden Center.
Tickets are also available by calling 440-247-0900 or online.
Tour Days Tickets are $25 by cash or check only and will be available at the Visitors Center in Township Hall on Friday, June 3 from 10:00 a.m. – 3:00 p.m. and Saturday, June 4 from 10:00 a.m. – 1:00 p.m.
Sponsored by