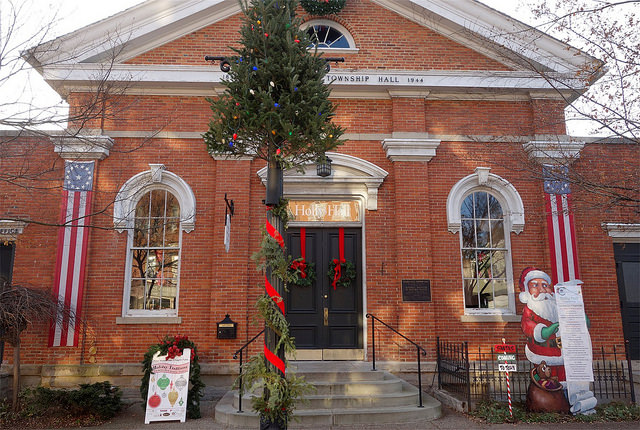 The Holiday Traditions program returns to  Chagrin Falls for the holiday season from November 25 through December 22nd 2016  featuring visits from Santa, cocoa and cookies, caroling, a festival of mini-trees for silent auction, Santa's gift shop, along with everyone's favorite, horse drawn carriage rides. Santa's Shop will be back and filled with delightful gifts, all under $6, and perfect for children who save their allowances and want to surprise a teacher, parents, neighbor, or grandparent with a special gift.
Our new Christmas train set, graciously donated to Your HomeTown Chagrin Falls by Michael and Elizabeth MacIver of Chagrin Falls will be featured once again. Please bring your children and begin a memory, as you relive yours, by visiting Holly Hall and enjoy the display, complete with village scenes, mountains, ravines, rivers, lakes and bridges. In addition, a Mini-Tree with Silent Auction featuring 70 trees will be displayed throughout Holly Hall. Please note that the last day for bidding on the silent auction will be Sunday, December 11th at 2:00 PM.
Holly Hall will celebrate its grand opening on Friday, November 25th from 11 AM to 8:00 PM and will remain open every day until Thursday, December 22nd. Holly Hall hours are: Monday through Friday 11 AM to 3 PM and Saturday through Sunday 11AM to 4 PM.
Santa will visit Holly Hall on the opening weekend of Friday-Sunday as well as Saturdays and Sundays through December 18th from 1 PM to 4 PM.  Free horse drawn carriage rides will tour the historic Village of Chagrin Falls, listed on the National Register of Historic Places.
A special edition Chagrin Falls Holiday Traditions Christmas ornament will be available for sale once again this year at the Visitor's Center in Township Hall for $20. This special ornament was originally created by Don and Lorraine Reiter, who ran the Christmas Store and Seasonal Treasures in Chagrin Falls. They have generously donated the design of the ornament to the Holiday Traditions Program. The ceramic ornament features three landmarks of Chagrin Falls – the natural water falls, the bandstand and Township Hall. In addition there is a Chagrin Falls Holiday Traditions ornament that features the iconic bandstand at Triangle Park etched in beveled cut glass for $20.
Produced by