Holiday Traditions Program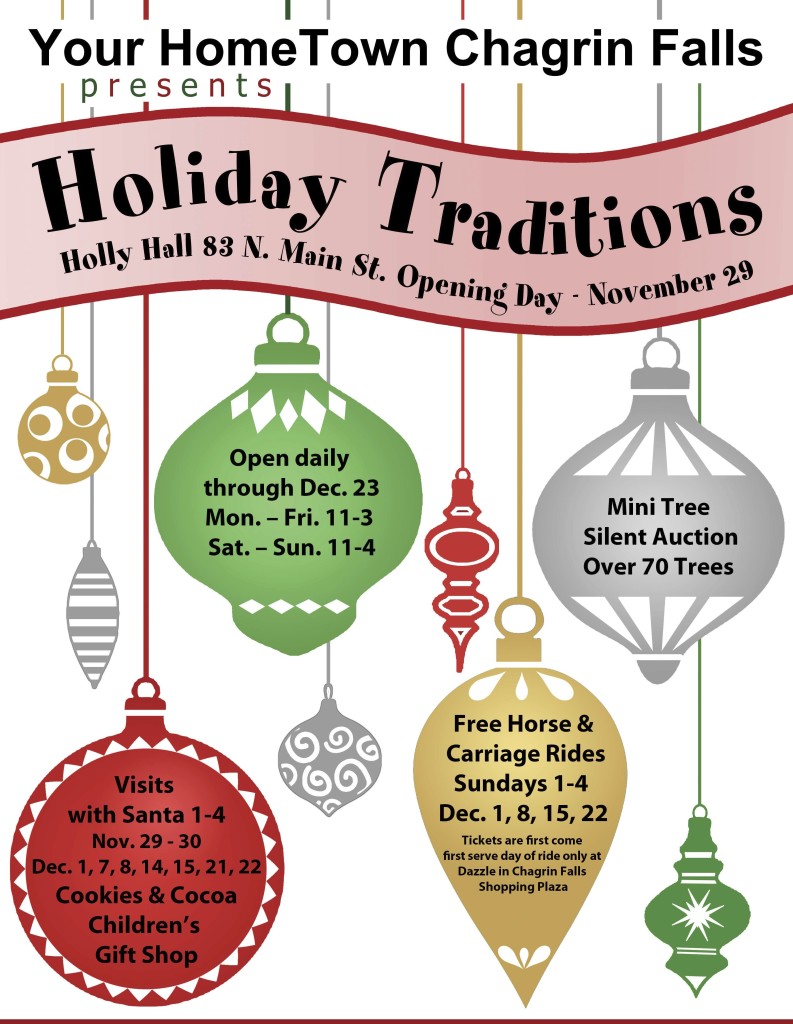 Once again, Your HomeTown Chagrin Falls presents the Holiday Traditions program in downtown Chagrin Falls for the 2013 Holiday season.  The season starts early as our volunteers prepare special "Letters From Santa".   This year, we are also offering a Holiday Dream Toy Raffle  giving anyone a chance at a gift of a lifetime for only $5/ticket.
Township Hall on historic Main Street is transformed into Holly Hall featuring visits from Santa, cocoa and cookies, performances, a festival of mini-trees for silent auction, Santa's gift shop, along with everyone's favorite, horse drawn carriage rides.
We are pleased to announce the return of Mark Brown's trains of Mark L. Brown Funeral Services to the legendary Holly Hall. For over ten years, Mark has provided the sights and sounds of Holiday Traditions with trains traveling thru colorful seasonal villages. Please bring your children and begin a memory, as you relive yours, by visiting Holly Hall and enjoy this year's train theme "Celebrating the Golden Age of American Trains".
Our special edition Chagrin Falls ornament is for sale at the Visitor Center.
All proceeds benefit the Chagrin Falls Holiday Traditions Program which includes: Holly Hall, free cookies & cocoa, free visits with Santa, mini tree display & silent auction, Mark Brown's train display, free horse & carriage rides, concerts and more!

Produced by

with the generous support of