Holiday Traditions Program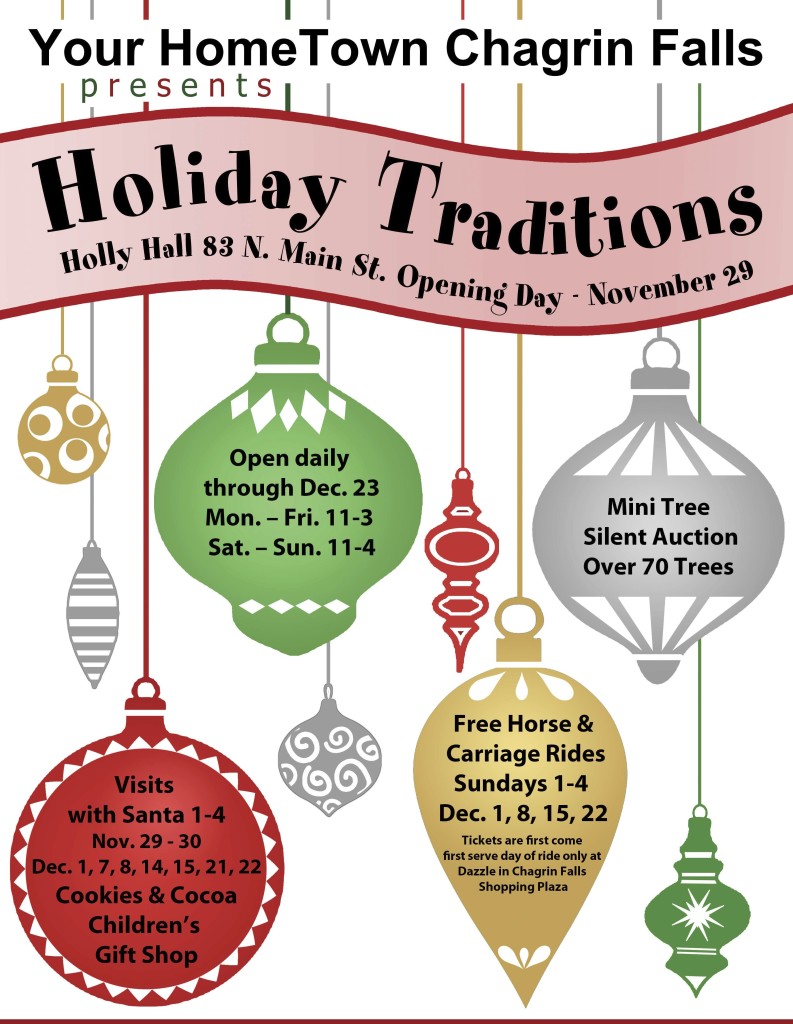 Holly Hall will be back in November of 2014 for another holiday season.  Check back in October for a full schedule of events!
All proceeds benefit the Chagrin Falls Holiday Traditions Program which includes: Holly Hall, free cookies & cocoa, free visits with Santa, mini tree display & silent auction, Mark Brown's train display, free horse & carriage rides, concerts and more!

Preschoolers at Holly Hall
University Hospitals Teddy Bear Clinic Presenters
Teddy Bear Clinic at Holly Hall
Teddy Bear clinic with preschoolers at Holly Hall
Outside Holly Hall
Christmas tree in entry
Santa's Gift Shop
Santa's Gift Shop
Mini trees 2013
Mini trees 2013
Train set 2013
Overhead view of Holly Hall
Holly Hall doorway
Mini trees 2013
Mark Brown, volunteer and sponsor for train sets in Holly Hall
Santa Wall and Toy Auction
Santa's Chair 2013
Santa's Chair 2013
Mark Brown Train Set 2013
Santa's Gift Shop 2013
Holly Hall volunteers
Holly Hall volunteers
Holly Hall volunteers
Holly Hall volunteers
Holly Hall volunteers
Visits with Santa
Visits with Santa
Visits with Santa
Carriage rides
Carriage rides
Carriage rides 2013
Carriage rides 2013
Holly Hall volunteers
Visits with Santa
Visits with Santa
Santa at Holly Hall 2013
Produced by

with the generous support of