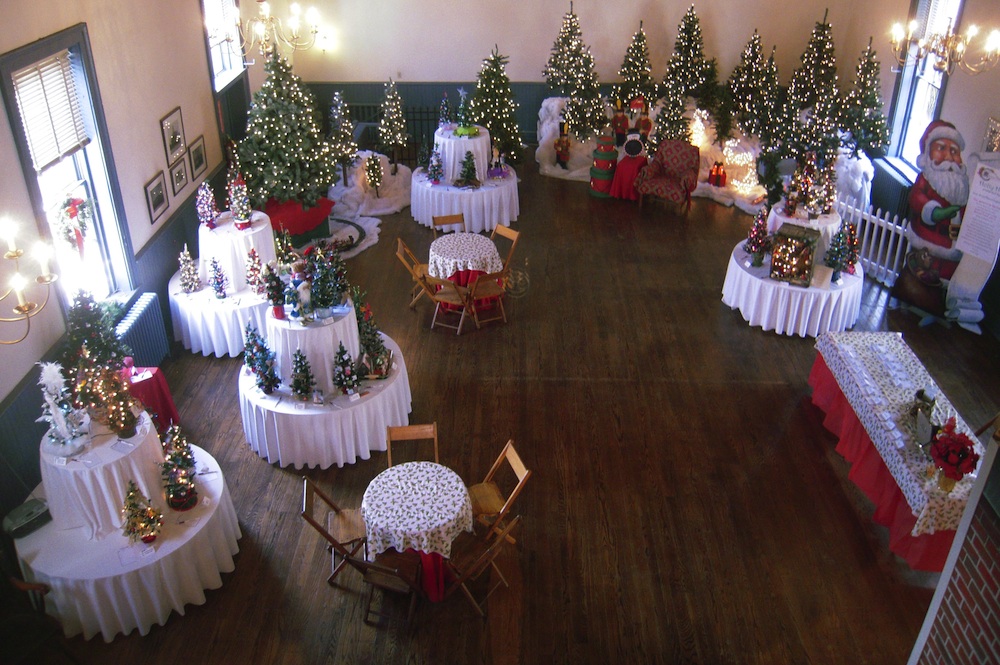 It's that time of year again and our 2014 Holiday Traditions Committee has been busy in our workshop preparing and transforming Town Hall into magical Holly Hall. We want to invite you to come and celebrate this special time of year and enjoy the many upcoming festivities!
The day after Thanksgiving, through mid- December, Town Hall is transformed into magical Holly Hall featuring our mini- tree silent auction, Santa visits, holiday themed train display, choir performances, children's gift store, free horse and carriage rides and more! Holly Hall is one of Your Home Town Chagrin Falls ' most popular and exciting events…attracting over 5,000 visitors annually!
We are grateful yet again for the huge response from our local merchants and businesses in decorating our mini-trees for our annual silent auction. We know and appreciate the amount of time and talent it takes to create a spectacular and unique tree, and we look forward to seeing how festive and creative our 2014 season of mini- trees will be! We want you to be one of the thousands of people to browse Holly Hall and bid on one of these unique accent trees. Over 70 trees will be featured… mark your calendars now as our grand opening is November 28th with bidding ending Sunday December 14th at 2:00pm.
In addition, our many elves are hard at work sponsoring letters from Santa. The loved ones in your life can receive a wonderful personalized letter from Santa…this is a wonderful opportunity to show someone special you care. Whether it's for your toddler, teen, or college student, the letter will surely put a smile on their face! Who doesn't love a letter from Santa??? Act now as Santa has a long list! (deadline Nov. 9h).
We hope you will join us in celebrating the magic of the season by visiting Holly Hall located in the wonderful village of Chagrin Falls and thank you for your continued support of Your Home Town Chagrin Falls!
Ho, Ho, Ho!!!
Sandra Papageorge and Lucy Lavery