Yoga by the Falls Opening 2014
Yoga by the Falls Opening 2014
Yoga by the Falls Opening 2014
Yoga by the Falls Opening 2014
Yoga by the Falls Opening 2014
Yoga by the Falls Opening 2014
Yoga by the Falls Opening 2014
Yoga by the Falls Opening 2014
Yoga by the Falls Opening 2014
Yoga by the Falls Opening 2014
Yoga by the Falls Opening 2014
Yoga by the Falls Opening 2014
Yoga by the Falls Opening 2014
Yoga by the Falls Opening 2014
Yoga by the Falls Opening 2014
Yoga by the Falls Opening 2014
Yoga by the Falls Opening 2014
Yoga by the Falls Opening 2014
Yoga by the Falls Opening 2014
Yoga by the Falls Opening 2014
Yoga by the Falls Opening 2014
Yoga by the Falls Opening 2014
Yoga by the Falls Opening 2014
Yoga by the Falls Opening 2014
Yoga by the Falls Opening 2014
Yoga by the Falls Opening 2014
Yoga by the Falls Opening 2014
Yoga by the Falls Opening 2014
Yoga by the Falls Opening 2014
Yoga by the Falls Opening 2014
Yoga by the Falls Opening 2014
Yoga by the Falls Opening 2014
Yoga by the Falls Opening 2014
Yoga by the Falls Opening 2014
Yoga by the Falls Opening 2014
It's hard to believe it's already July!
Summer is in full swing in Chagrin Falls.   This Saturday, our popular Yoga by the Falls program meets for its third session this summer.   Why don't you come out and join us?
There's something special about Yoga by the Falls. Each event brings together people of all ages and abilities for an hour of free yoga in Triangle Park.  Local studio
Chagrin Yoga
provides a different teacher for each class, offering a sampler of teaching styles to those new to yoga and a chance to experience an outdoor class with your favorite teacher to the studio's regular students.  Best of all, the energy in the park is always uplifting and fun;  who could resist a morning of 80 people (or more!) coming together to play in the park?
If you haven't had a chance to check out this event, put the last four on your calendar.  After class, you can stroll through town,  do some
local shopping
or grab a coffee with a friend.  Bring a yoga mat or bath towel. For questions and more information, please call
440-247-1895.
July 5: Darcy Providente lead and Erin Cornell assist

July 19: Frank Alesci lead and Melanie Tessmer assist

August 2: Vishali Gupta lead and Kris Radzanowski assist

August 16 with Dawn Holst lead and Freia Ramsey assist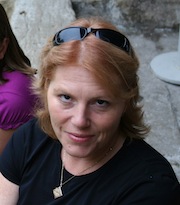 See you at the triangle!

Angie DeBernardo
Your HomeTown Chagrin Falls Web Coordinator