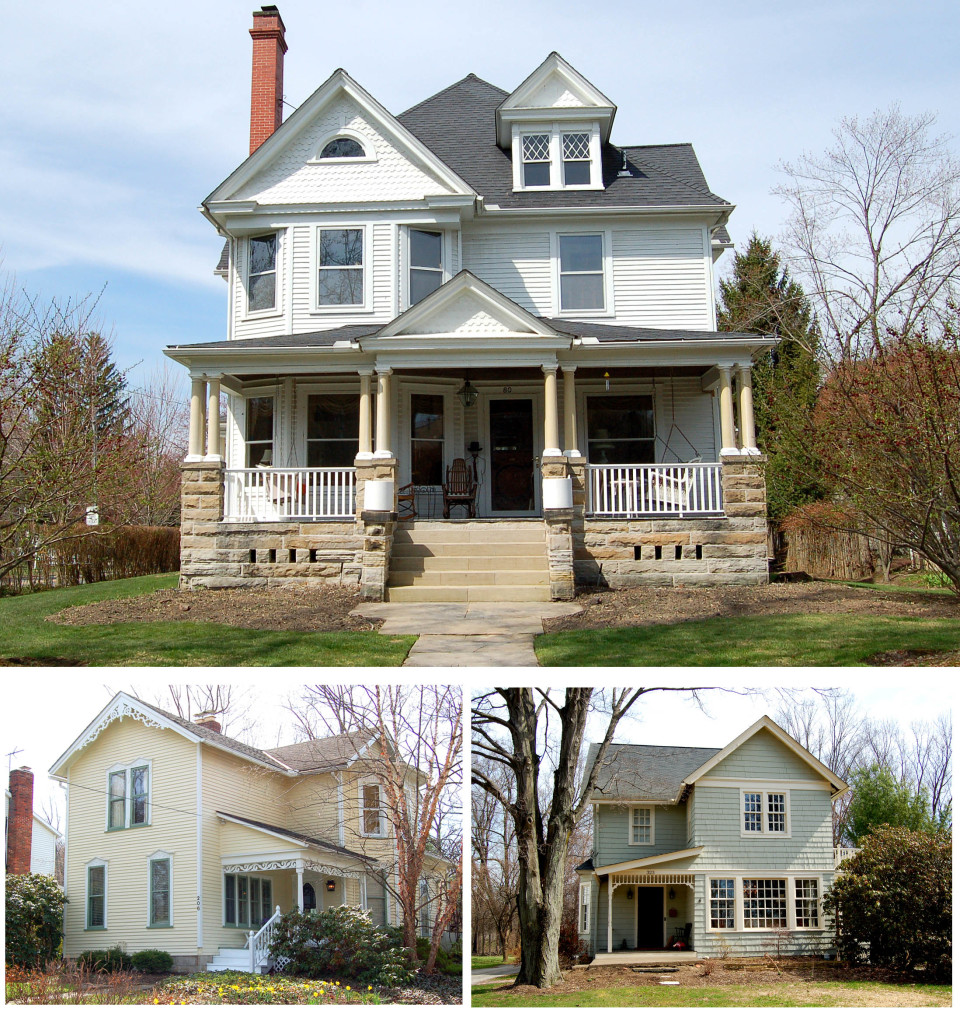 Your HomeTown Chagrin Falls is proud to present the Chagrin Falls Historic Home and Garden Tour. The Walking Tour will take place on Friday, May 30 from 10:00 a.m. to 4:00 p.m. and on Saturday, May 31 from 10:00 a.m. to 2:00 p.m. Featured are five select historic homes and gardens, as well as one church all within walking distance of downtown Chagrin Falls. The tour will feature one home on Maple Street, one home plus the United Methodist Church on South Franklin Street, and three homes on East Washington Street highlighting the broad range of historic architecture within the Village of Chagrin Falls.
Earlier homes on the tour include an 1873 practical Italianate style home constructed by Village merchant James M. Gates, who operated his dry goods store on North Franklin Street in Chagrin Falls. Two years later, the local newspaper reported construction of the Italianate Philip Hintz House, who with his father operated a stove and tinware business on the southeast corner of Main and Bell Streets. Queen Anne style houses on the tour include the early Queen Anne home of George and Nellie Huggett constructed in 1889 and a later Queen Anne home constructed by local builders George and William Brewster in 1899. Also included is the house of important Village physician Dr. H. M. Doty, constructed in 1905. A special addition to the Tour this year is the Gothic Revival United Methodist Church built in 1885 by the Methodists, who were among the first settlers to arrive to Chagrin Falls in 1833.
Spend the day and experience the ambiance and style of these homes which are part of the important architectural heritage of the Village. There will be van transportation provided in the Village by The Cleveland Clinic, Hamlet Retirement Community and South Franklin Circle for those who need assistance. The Women's Committee of the Chagrin Valley Little Theatre is serving its Famous Salad Luncheon Buffet on Friday, May 30 at Chagrin Valley Little Theatre, 40 River Street between 11:30 a.m. and 2:00 p.m. For $15 enjoy salads, desserts and beverages. Purchase luncheon tickets at CVLT, www.cvlt.org or by calling 440-247-8955. Those attending the luncheon will be entered in drawings for complimentary tickets to "Twentieth Century", playing at CVLT May 30 – June 21.
Pre-sale tickets for the Historic Home and Garden Tour may be purchased for $20 until Thursday, May 29 at the Visitors Center in Township Hall at 83 N. Main Street daily from 11 a.m. to 3 p.m. and at the following locations until Thursday, May 29 at 5:00 p.m.: Timan Custom Window Treatments, Chagrin Card and Gifts; Chagrin Pet, Garden and Power Equipment; Fireside Book Shop; Village Herb Shop; Heinen's in Bainbridge; Lowe's Greenhouse, Breezewood Gardens, Petitti Garden Center or online below. If purchased online, tickets will be mailed until May 21st. If ordering online after May 21st, tickets can be picked up on the day of the event at the Visitor Center.
We would like to thank our 2014 Historic Home and Garden sponsors: Bold Alternatives, California Closets, Michelle McQuade of Howard Hanna Real Estate Services – Chagrin Falls, Motorcars Cleveland in Cleveland Heights and Timan Custom Window Treatments for their generous support.