Yoga instruction by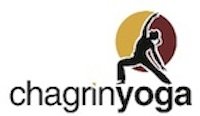 Your HomeTown Chagrin Falls is pleased to announce that Yoga by the Falls has started its sixth year! Please join us on the 1st and 3rd Saturdays June through August 20. Yoga by the Falls is held at Triangle Park from 9:00 AM to 10:00 AM. In the event of inclement weather, the yoga classes are held at Township Hall, located 83 North Main Street.
The style of yoga offered is vinyasa flow, a fun energizing, invigorating class for all levels starting with centering phase, moving into wakening phase, some gentle backbends, balancing postures, hip openers for releasing and ending with shavasana which is deep rest. The schedule and teachers are the following: June 4: Erin Pickus leads and Dawn Holst assists, June 18: Frank Alesci and Jessica Fidel assists, July 2: Jeff McIntosh and Morgan Weber assists, July 16: Candace Koslen and Melanie Tessmer assists, August 6: Elizabeth Silas-Havas and Erica Leone assists, August 20: Dawn Holst and Ericka Szabo assists.
Bring your own yoga mat or bath towel. For questions and more information, please call 440-247-0900.
Your HomeTown Chagrin Falls is pleased to announce the Chagrin Falls Farmers Market opened on Sunday, June 5th .  This year, the Market will run through October 23rd. The  Market is held along North Franklin Street, next to the bandstand and Triangle Park from 10:00 AM to 1:00 PM.  It is managed by North Union Farmers Market, a non-profit organization, currently operating other markets in Northeast Ohio including the Cleveland Clinic, Cleveland State, Crocker Park, Lakewood and Shaker Square.
Your HomeTown Chagrin Falls raises the funds to pay North Union's annual management fee through our annual funding programs and company sponsorships.
This is the 9th year for the market with visitor counts on the rise each year. The Chagrin Falls Farmers Market was voted #1 in the small market category (16-30 vendors) in the state of Ohio and #11 nationally in the same category in a contest held by the American Farmland Trust in 2011.
The Market offers seasonal fresh produce, fruits, vegetables, bakery, fresh pastas, meats, cheeses, herbs and flowers.
The Cleveland Clinic Family Health Center, Chagrin Falls will be providing free blood pressure checks on June 5th and July 17th.
Please Note: Out of respect for the farmers and the safety of everyone, dogs are not allowed within the market area.
Generously sponsored by
Farmers Market
Our Farmer's Market is held on N. Franklin Street June through October. This weekly event offers seasonal fresh produce, bakery, pastas, meat, cheeses, herbs and flowers.
---
Yoga by the Falls
This popular free outdoor yoga program is offered on alternating Saturdays July through August in Triangle Park.
---
Holiday Traditions
Every Christmas season, Township Hall is transformed, by our volunteers, into a magical, holiday wonderland that attracts families from all over Northeast Ohio.
---
Wine by the Falls
Wine By the Falls, our only formal fund raising event, held each April, has sold out for the last five years. Find out more.
---
Historic Home Tour
One weekend every spring, we host the Historic Home and Garden Tour opening several historic homes and gardens in the Village to the public for touring.
Directions to Chagrin Falls
Chagrin Falls is located on the east side of Cleveland, OH.
Click to get directions to town.
Download our Chagrin Falls brochure with up to date maps, shopping, recreation and dining information. Live in Chagrin Falls and know the town well already? Print one for out of town guests and let them discover the Village for themselves.