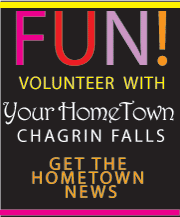 ---
Thanks for your interest in receiving a quarterly e-newsletter from Your HomeTown Chagrin Falls. Its easy to subscribe by entering your email address below. We will never compromise your identity by sharing your information with anyone else.
---
If you would like to volunteer or participate in any event. You will be welcome. Send us an email and we'll be in touch.
---
Welcome to Your HomeTown Chagrin Falls!
---